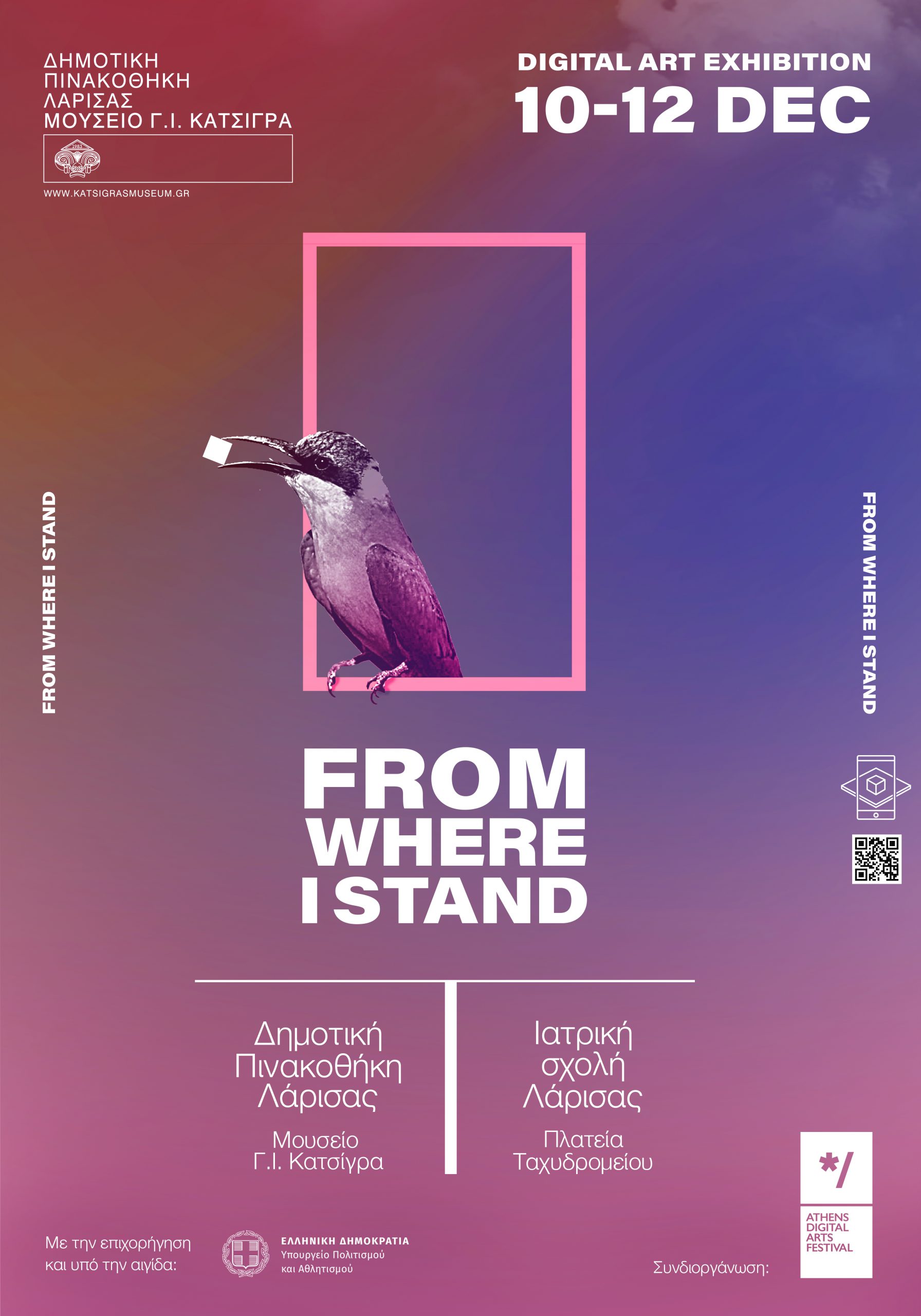 The Athens Digital Arts Festival (ADAF) in collaboration with the Municipal Art Gallery of Larissa G.I. Katsigras Museum, present "From Where I Stand," the first digital art exhibition to take place in Larissa. 
The exhibition will take place from December 10th – 12th 2021 in the foyer of the Medical School of Larissa's building (ex Katsigra Clinic), located in the heart of the city at Tahidromiou Square, at the Municipal Art Gallery of Larissa G.I. Katsigras Museum as well as in central public spaces.  The exhibition and its rich program aim to connect digital arts with the public of Larissa and to promote artistic expression through innovation, while highlighting the digital artistic community of the city. 
"From Where I Stand" will host 114 artworks by Greek and International artists from all categories of digital arts: Digital Installations, Video Art, Animation, Games, 3D, Virtual & Augmented reality, 3D Mapping etc and will also host a series of screenings, educational workshops and talks for all ages.  The exhibition honors this unique region of Greece with a special tribute that will showcase the work of 14 artists from Larissa. 
The Medical School of Larissa will host digital artwork ranging from Installations, VR (Virtual Reality) and AR (Augmented Reality), Web Art and Games in the foyer of its building located on Tachidromiou Square and a unique projection by artist Giannis Kranidiotis will take place on the facade of the building. This commissioned work depicts and pays tribute to the famous artwork of A. Tassou "Marinos Antipas – Kileler 1910" from the permanent collection of the G.I. Katsigras Museum, in an extraordinary way.  Tahidromiou Square will also feature "Pymar," an interactive and immersive installation by Kranidiotis.  
The Municipal Art Gallery of Larissa G.I. Katsigras Museum will exhibit artwork from all categories by local and international artists as well as Video Art and Animation screenings.  A series of 8 talks will take place on both days and 2 workshops, including the workshop "animate your star" specially designed for kids. 
The Municipal Art Gallery of Larissa G.I. Katsigras Museum is a cultural organization promoting fine arts on a national level. It was founded in1983 after the late doctor and collector Giorgios I. Katsigras donated his private collection to the Municipality of Larissa in 1981. 
The Athens Digital Arts Festival (ADAF) is an organization that represents Greece internationally in Digital Arts and is a prime meeting point of all forms and trends of modern digital culture. It aims to highlight the multiple ways in which art communicates with technology as well as the impact of this relationship on modern life in an urban environment. ADAF further aims to enhance the public audience's contact and awareness of new media and digital culture. 
Click here to see the full program.
The program is organized and funded under the auspices of the Ministry of Sports and Culture.