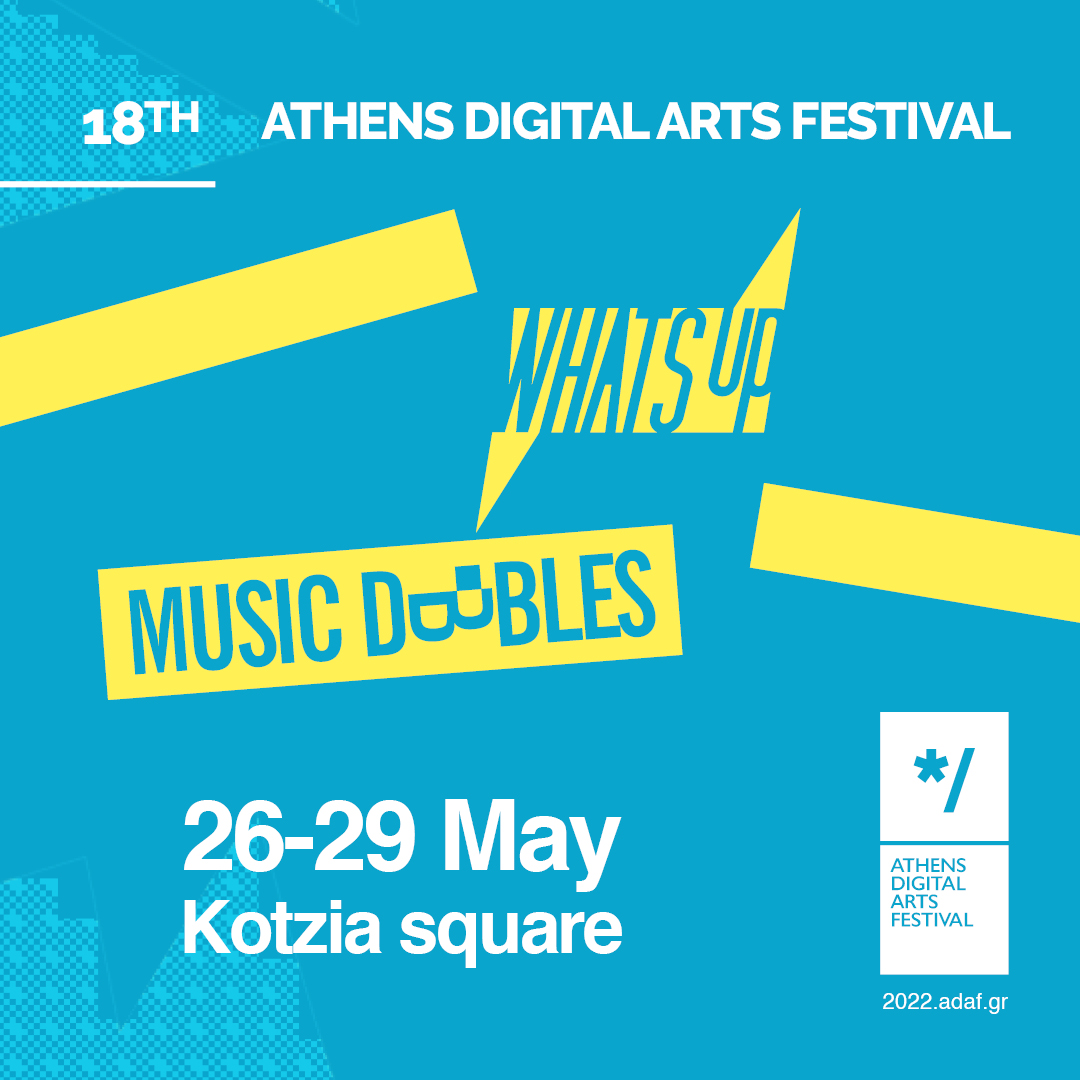 The full programme of ADAF Stage 
"FutuRetro"
25 – 29 May 2022
Kotzia Square – Building complex of former notoshome
The Athens Digital Arts Festival (ADAF) presents FutuRetro, a celebratory 18th edition and a five-day gathering in the heart of Athens at the historical landmark of Kotzia Square. From the 25th – 29th of May, the building complex of former notoshome and Kotzia Square will be revived to host an innovative exciting program, aiming to present the technological milestones of today through the eyes of the past and as a foreshadowing means for the future.
Alongside the main exhibition taking place in the impressive building complex of former notoshome, Kotzia Square will be reimagined as an outdoor event space in order to host the curated programme of ADAF Stage, a stage which will be built to support the events of ADAF Music and Performance categories for four days.
During the 18th Athens Digital Arts Festival the ADAF Stage, with the support of Cosmote What's Up, will host a variety of creative performance acts as well as concerts from well established local artists coming from the genres of pop and alternative music.  
18th ADAF | FutuRetro – Teaser
ADAF MUSIC
One of the most beloved categories makes its return for the 18th edition of the Athens Digital Arts Festival. As part of the ADAF MUSIC category, both local and international artists will have the chance to showcase their work by performing live or pre-recorded shows for the festival's audience. These music performance acts will take place at the ADAF Stage and they will be also complemented by an impressive 3D Projection Mapping Show at the wall of the Athens City Hall.
In this year's agenda, the What's Up Music Doubles project holds a special place. A project that spawned from this year's "FutuRetro" theme, with a deeply experimental and reflective attitude towards greek music and its features.
What if artists with many years of artistic experience met up with the new blood? How do traditional sounds exist in the digital age? What is the connection between the electro genre, before the introduction of electronic elements in music production, with the production of the modern era? The What's Up Music Doubles project brings together musicians from different genres and eras in the ADAF Stage, creating a multidimensional amalgam from Greece's musical world.
The following music collaborations will take place as part of What's Up Music Doubles:
Thursday, May 25th 2022
21:00 | Marina Satti x Jeph Vanger
Marina Satti will host a live show performing songs from her most recent album, YENNA, while combining traditional with contemporary electronic music for the first time in her career. Jeph Vanger will perform with Marina, adding elements of electronic music and reinterpreting the songs of YENNA.
22:00 | Kaiti Garbi x Someone Who Isn't Me
A unique performance featuring Kaiti Garbi, a long established Greek artist and Someone Who Isn't Me, a music project which has become a favorite of the local alternative scene.
Friday, May 27th 2022
21:00 | IOTA PHI x VASSIŁINA
IOTA PHI, also known as Ilia Darlin, is a Greek singer, songwriter, music producer and an award-winning video director. As a support act she has shared the stage with artists such as Orbital, Florence and the Machine, Marina and the Diamonds and Muse. As part of What's Up Music Doubles, IOTA PHI will perform alongside VASSIŁINA, an equally talented musician and producer who has gained a lot of attention thanks to her avant-pop melodies and capturing vocals.
Saturday, May 28th 2022
21:00 | Pan Pan x Kalliopi Mitropoulou
A live mixtape consisting of various songs from Pan Pan's and Kalliopi's discography, classical compositions from the 17th century as well as top hits from the 20th century, all orchestrated with live sequencing, synths, violins, turntables, voices and sounds.
22:00 | Lena Platonos x Die Arkitekt
The performance will be consisted of the presentation of Die Arkitekt's new album and cover versions of some classic hits from Lena Platonos's discography.
Sunday, May 29th 2022
21:30 | Nikos Touliatos x Stelios Giannoulakis
Nikos Toulatos, a well known musician with a career of 50 years and with great experience in percussion instruments, will meet up with the musician, composer and sound designer, Stelios Giannoulakis for the first time ever in a musical extravaganza.
23:00 | DJ Rico x Katia Paschou
Vaggelis Serifis, also known as DJ Rico, will be teaming up with the soprano Katia Paschou, combining opera with hip hop music. This technique will be showcased earlier that day at the Classic (And) Hip Hop: Element Of An Innovative Creation workshop (Sunday, May 29th 2022, 19:00. Apply by sending your name and a contact number at workshops@adaf.gr. Places are limited, so priority will be given on first come first served basis.
Furthermore, a number of wondrous musicians will be presenting their work in a series of events that should not, in any way, be missed:
Stelios Giannoulakis, composer and sound designer, improvises with the use of a modular synthesizer, games with creative calibration of circuits, DIY sound making devices and drum machines at Disco Accuracy (Friday, May 27th 2022, 20:00).
During the Positronic Brains performance, by the minimal synth duo Incirrina, we will be introduced to electro music, but with a twist. There, the ambient soundscapes alternate with musical pieces inspired by three human shaped robots, created by Isaac Asimov, the master of the sci-fi realm. (Saturday, May 28th 2022, 20:00).
Meat Injection, the darkwave-electro, synthwave, post punk band, will present its first album "System Anomaly" (Sunday, May 29th 2022, 22:00).
PERFORMANCE
Myriam Bleau's performance is inspired by Donna Haraway scripts, as well as the methodology of speculative architecture. With the aid of the Artificial Intelligence (AI), her work Unsculpt, explores natural and urban scenes with the combination of humane and robotic elements.
For more information on the program and the curation of the 18th Athens Digital Arts Festival, visit 2022.adaf.gr. Connect with us on Instagram and Facebook for daily updates and sign up for our newsletter for year-round news on ADAF.
Location of the main exhibition: Building complex of former notoshome | 3rd – 5th Kratinou str., Kotzia Square
Entrance: Straight 1
Opening hours: 11:00 – 22:30
ADAF Stage opening hours: 20:00 – 24:00
The 18th Athens Digital Art Festival offers free admission to all visitors for all of its events.
Dates: 25th – 29th of May, 2022
#ADAF2022 #ADAFgreece #TheNewRetro #Futuretro #Futurology #Sci-Fi #Retrofuturism
Τhe 18th Athens Digital Arts Festival is co-financed by the Hellenic Republic and the European Union through the Regional Operational Program "Attica" in the framework of NSRF 2014-2020, performs under the auspices of the Hellenic Ministry of Culture and Sport, the Region of Attica and the City of Athens.
FACEBOOK @ADAFgreece
INSTAGRAM @adafgreece
YOUTUBE @ADAFgreece