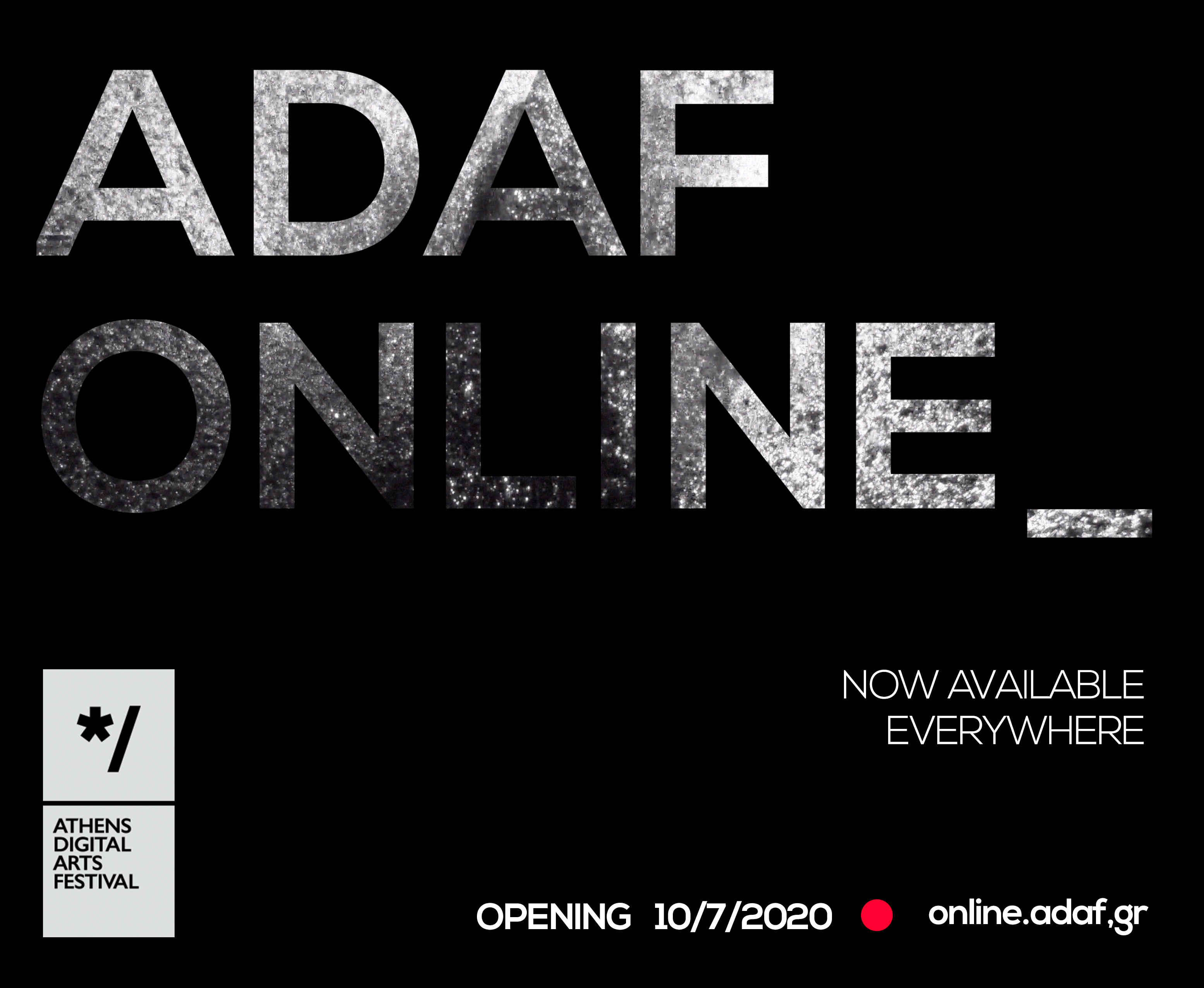 Athens Digital Arts Festival is launching the new era
online.adaf.gr
Athens Digital Arts Festival (ADAF), the representative of Greece in the international digital art scene, is launching the Online era.  Athens Digital Arts Festival is evolving, becoming even more creative and develops an Online presence in addition to the main festival. The new, specially designed ADAF platform will be hosting daily for two months, works by artists, which will be available to everyone with just one click.
Online.adaf.gr will contain artworks on demand (available to the public from the beginning of the festival), as well as live streaming events (works that will be shown live, on specific dates and time, most of which, will remain on demand afterwards ). Among our streaming events we will host many world premieres!
A constant journey of digital artistic pursuit, a large exhibition by more than 500 creators and ongoing event that will take place live, throughout the Online presence.
The ADAF 2020 programme is consisted by choosing between  more than 5.500 art proposals submitted by creators from more than 100 countries.
Video Art, Animation, VR (360ο videos), Performances, Web Art, Games, Digital Image, Talks, Workshops, ADAF Kids for children & parents, Festivals of the World, as well as Installation complementary videos, will be shown in ADAF ONLINE.
The surprises continue! For the first time, Athens Digital Arts Festival will present its own awards, ADAF Awards. The public will have the opportunity to vote for their favorite artworks and by the end of the festival (September 10), the most voted artists from each category will be awarded. Also the voters will be part of a unique draw to win superb technology gifts.
By utilizing the goods that technology provides us in the best possible way, in an era of disconnection, we feed back and unite people through a full of art Online platform! ADAF Online provides the opportunity for everyone to watch the displayed projects, with no restrictions, always from the security of their own space.
The only thing you need to do in order to become part of ADAF Online is to subscribe to : online.adaf.gr
Co – organisation : Organization of Culture, Sports & Youth of the City of Athens (OPANDA)
Under the Auspices : Hellenic Republic Region of Attica, Municipality of Athens
The 16th Athens Digital Arts Festival is co-financed by the Hellenic Republic and the European Union through the Regional Operational Programme of "Attica" in the framework of NSRF 2014-2020.

#ADAFonline #ADAF2020 #ADAFgreece #Technotribalism