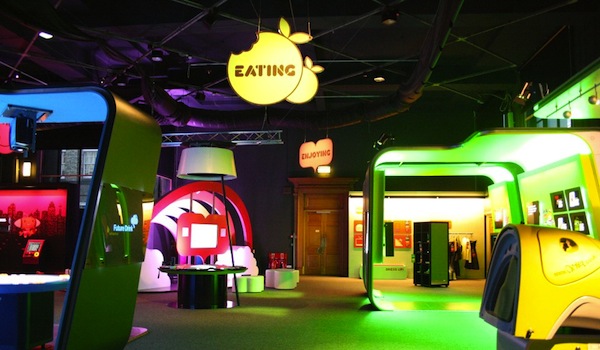 In collaboration with the London Science Museum, we present the interactive exhibition "Your planet needs you… Live in 2050!" It is a digital, interactive media exhibition, which gives a glimpse of the world in 2050 and looks into how humans will survive on a changing planet. It is directed to families with children from 5 years old and on as well as schools and it concentrates on some of the most pressing environmental issues today, like the worldwide depletion of natural resources, the climate changes and the need to take action for a viable future.
Visitors will move around these sections: Informing, Drinking, Eating, Moving, Building, Enjoying and Future City, while playing interactive games and shaping their life for 2050. At the same time, the exhibition invites the visitors to explore new ways of finding water and creating hyper food, designing vehicles, and new houses and gardens for 2050. It also reveals how our lives and free time activities will influence the whole environment. The visitors' choices are saved as they move further into the exhibition with the use of a "survival card", until their own neighborhoods from 2050 emerge and, in combination with the communities of other visitors, will shape the city of 2050.
In each section, the visitors will have the chance to realize first-hand the impact of their everyday actions to the environment and at the same time, to study as well as implement various ways and technologies that could potentially contribute to viable solutions in the future: amongst others they can design their future house and car as modern engineers, to prepare food for a virtual futuristic dinner, to dive in a virtual pool without getting wet and to meet up close all the innovative technologies that will be used in the future for the safeguard of drinkable water. The exhibition also offers the chance to see new inventions that allow the best use of the planet's resources possible.
Until today, it has received more than 1.5 million visitors from all over the world (SE Asia, U.S.A., Europe)
Last stops of the exhibition:
Greece (Thessaloniki, Athens) |2011-2013
United Arabic Emirates (Dubai) | 2014-2015
Next stops:
Saudi Arabia (Al Khobar) | 2015
Kuwait (Kuwait) | 2016
Australia (Perth) | 2017
More information here: