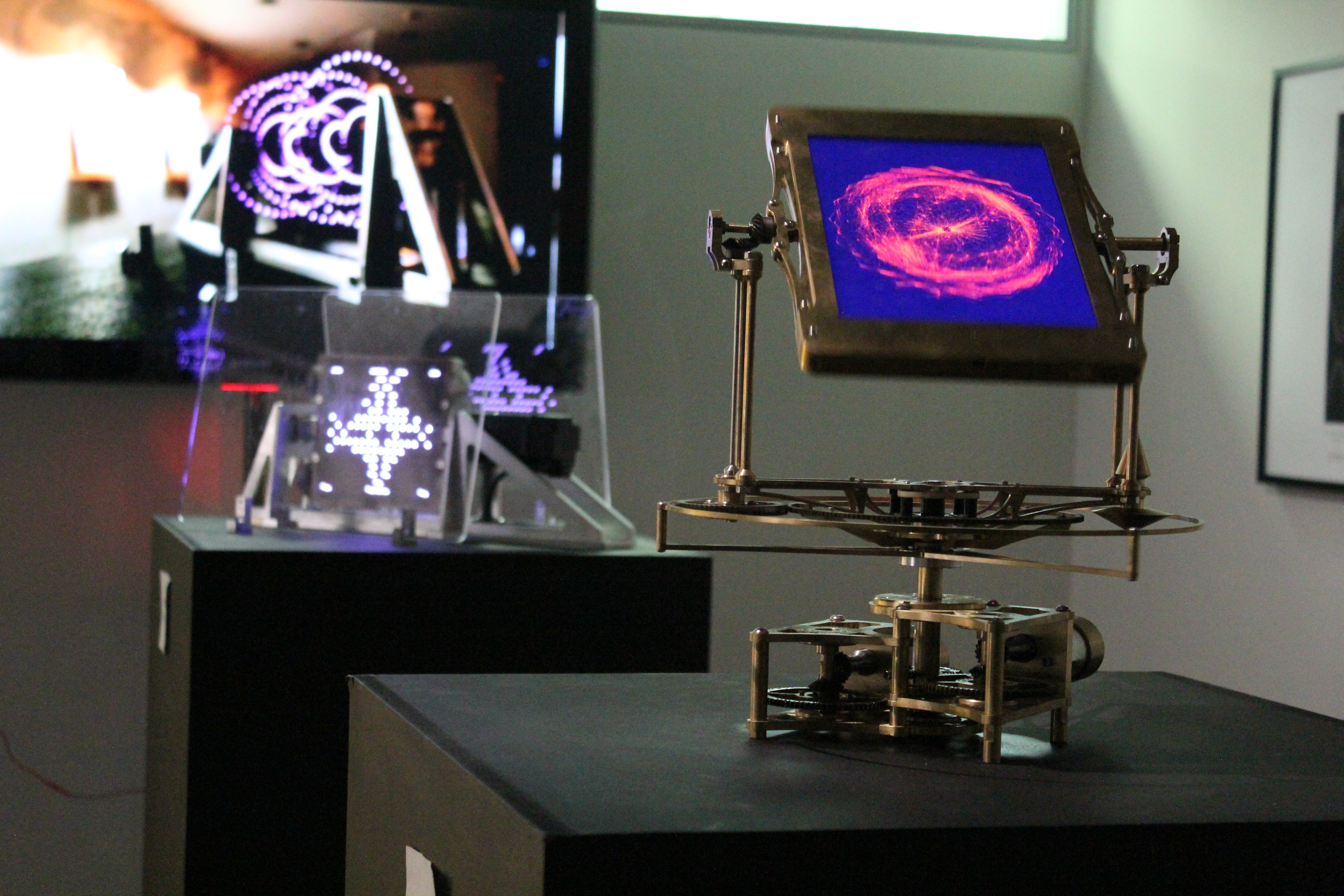 Athens Digital Arts Festival, in collaboration with the Hellenic Ministry of Culture & Sports, presents for the Greece – China Year the special event #PostFuture Dialogues. Aiming to create a cultural dialogue between Greece and China, ADAF focuses on how Greece and Chinese artists experience the transcendence of the digital culture, under this year's theme #PostFuture.
Including installations, indoor and outdoor screenings as well as a tribute to Microwave International New Media Arts Festival (HK), ADAF creates a rich programme, introducing, until the end of September, to the Greek audience and tourists well-known as well as emergent artists from Greece and China.
Moreover, Athens Digital Arts Festival curates and presents a special compilation of video art and animation within Microwave International New Media Arts Festival (HK) programme, which will take place in China in late September.
Installations
(23 Mitropoleos str | 18 – 21 May)
Collar AG (2016)
Resonance Aura (2016)
RadianceScape (2016)
XCEED
Cheung Hon-him
Liu Suet-Yee
Lam Chi-Fai
Wong Chun-Kit
Kwan Kai-Yin
Chan Ka-Chun
Kong King-Sin
Screenings
(Historic Center of Athens | 18 May – 12 June | 21:00 – 00:30)
Video Art
Cong Yao | B²EAU²T²Y (2014) | 15:30 min
Cong Yao | the Soliloquy in the Air (2016) | 10:27 min
Cong Yao | Under Blue (2015) | 06:38 min
XCEED | RadianceScape (2015) | 02:00 min
Portrait | Di Hu (2017) | 37:00 min
Animation
Sing-Hong Chan | Where have the flowers gone? (2017) | 02:00 min
Nico Chang Gao | AGAIN (2016) | 05:18 min
Wenyu Li | GO TO CITY ELE (2015) | 09:00 min
Crystal Palima Yip | Lace Murex (2017) | 02:30 min
Ka Man Luk, Hinyi Cheuk | Glass Bird Movement (2017) | 03:38 min
Ka Man Yu, Tsz Ching Kwan, Ka Yiu Wong | Leonardo's Formula (2017) | 03:30 min
Susan Sun | Slow Rings (2017) | 02:00 min
King Lam Chan, Cheuk Lam Mui, Qi Yu Teo | Parley Glove (2017) | 04:19 min
Team Five with Max Hattler | Five: Scherzo (2016) | 18:00 min
Team Five with Max Hattler | Five: Moving Stormily (2016) | 15:00 min
Special Screening
Microwave International New Media Arts Festival
Future X Imagination
This is a compilation from VMAC (Videotage Media Art Collection), which features a series of works regarding posthumanity and the imagination of future life. "Posthuman" could refer to a person or an entity that exists in a state beyond human, or as a human with extraordinary intelligence; no matter what, the concept raises loads of questions regarding ethics, social systems and communications, and carries these questions projecting our imaginary future lives. This compilation includes an android couple questioning their love & relationship, the birth of the fastest vehicle on the planet, underwater life, etc. Starting from here, all the imagination within makes us question reality.
Robert Iolini | Geminoid Tear (2010) | 03:20 min
Hung Chi Wing | Canned Despair (2004) | 02:54 min
Niklas Roy | Dokumat 500 (2005) 09:20 min
Marc Comes | Up There (JIVAN) (2003) | 10:30 min
Choi Sai Ho | Move (2011) | 03:30 min
Jay Forster | Shift (2006) | 03:18 min
Reynold Reynolds, Patrick Jolley | The Drowning Room (2000) | 09:41 min
Watch photo gallery at Flickr: