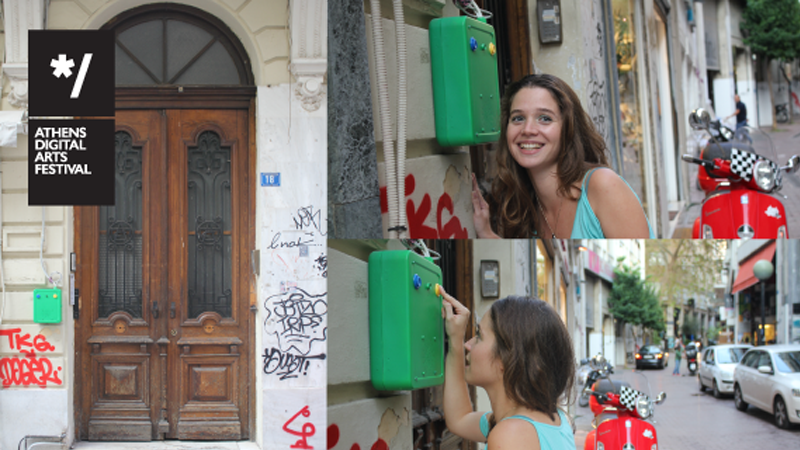 In the framework of the 11th Athens Digital Arts Festival, the media artist Yoana Buzova held the workshop «Leave a message». «Leave a message» is a participatory project, a network of voice mailboxes that allow members of the public to record and distribute their audio messages in public space. The boxes are installed in different countries, cities and contexts. Connected to each other, the boxes provide playful, performative moments for strangers to break from their routine and enter a network of anonymous communication.
So, if you take a walk in the historic center of Athens, you can discover this green makeshift voice mailbox hanging on the door of a neoclassical building in 18 Miltiadou street where you can listen to the last recorded message by anyone around the globe. Meanwhile, thanks to the fast speeds offered by OTE VDSL, you can become part of a global communication network by leaving your own message that will be heard in various corners of the world.
During the workshop, which was held at Diplareios School, the participants were introduced in the programming language Python and Raspberry Pi computers in order to program the software that is the heart of the network. Finally, they analyzed different strategies related to DIY networks and placed the device in the city centre with the aim to connect Athens with the rest of the world.
The 11th Athens Digital Arts Festival (ADAF) completed another successful event last May, with the sponsorship of OTE-COSMOTE. Under the theme of Public Space_s, the festival expanded in various public spots of the city and highlighted the notion of public space, one of the most controversial concepts of our days. By triggering our experience and relationship to public spaces, the festival explored the critical language and aesthetics of the digital medium. The dates of the 12th ADAF, which will take place in late spring 2016, will be soon announced along with the open call for artists.