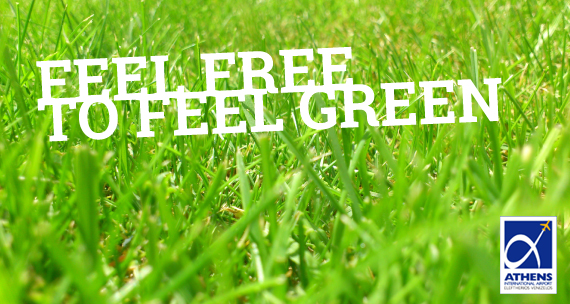 A unique cultural approach of the natural environment at the airport of Athens.
September 2014 – January 2015
Τhe International Festival of Digital Arts & New Media (Athens Video Art Festival) on the occasion of its 10th anniversary hosted a unique multimedia and contemporary exhibition at the Athens International Airport. The exhibition, entitled "Feel Free to Feel Green" aimed to raise environmental awareness and took place from September 3 to January 5 at the "Art & Environment" exhibition area of the Athens International Airport.
Conveying the feeling of natural scenery in the interior space of the airport, Greek and international artists presented projects of Video Art, Animation, Installations and Digital Image aiming to debate the relationship between people and the environment as well as the place of technology in it, revealing at the same time stories of the travelers and visitors of the Athens International Airport.
Wishing to shift the attention of the audience towards contemporary environmental ethics, "Feel Free to Feel Green" was presented in the Art & Environment exhibition area – at the departure level of the airport and was open to the public 24 hours a day.
More details of the artistic projects that were hosted during the exhibition by category:
*/ DIGITAL IMAGE:
Charis Apostolopoulos ("A truth in nature", Greece), Nasos Stavropoulos ("Make the city green", Greece), Vasiliki Spyrou ( Untitled, Greece ), Marilena Vainanidi ("Green heart in pieces", Greece), George Kypraios ( "After the rain", Greece ), Evaggelos Chatzis ("Little J", Greece), Evaggelos Chatzis ("Pekaman", Greece ), Danai Vlaxou ("Go outside shut the door", Greece), George Dimitriadis ("Parnitha the enxtinguished forest", Greece), George Dimitriadis ("Rocky Mountains in Greece", Greece)
*/ VIDEO ART & ANIMATION SCREENINGS:
Jill Johnston ( "Don't be afraid of bears", Canada ), Lynn Tomlinson ( "The Ballad of Holland Island House", United States ), Nick Jordan ( "Nature House Inc", United Kingdom ), Stephanie Maxwell ("Ocean", United States ), Carolina Padilla ("For the pure pleasure of eating meat", Spain / Colombia ), Daphne Keramidas ( "Take away", Greece / France ), Ana M. Baroso / Nuno Pereira ("The Kingdom", Portugal ), Devis Venturelli ("Eterotropia", Italy ), Devis Venturelli ("Suburban Rhapsody", Italy ), Martjin Koolstra ("Quit smoking weed", Netherlands ), Michael Lewis ("Homage to John Baldessari", United Kingdom ), Chryssa Serdari ( "Tiny Great", Greece )
*/ INSTALLATIONS:
Ieva Balode ( "One hour", Latvia )
Watch photo gallery at Flickr: