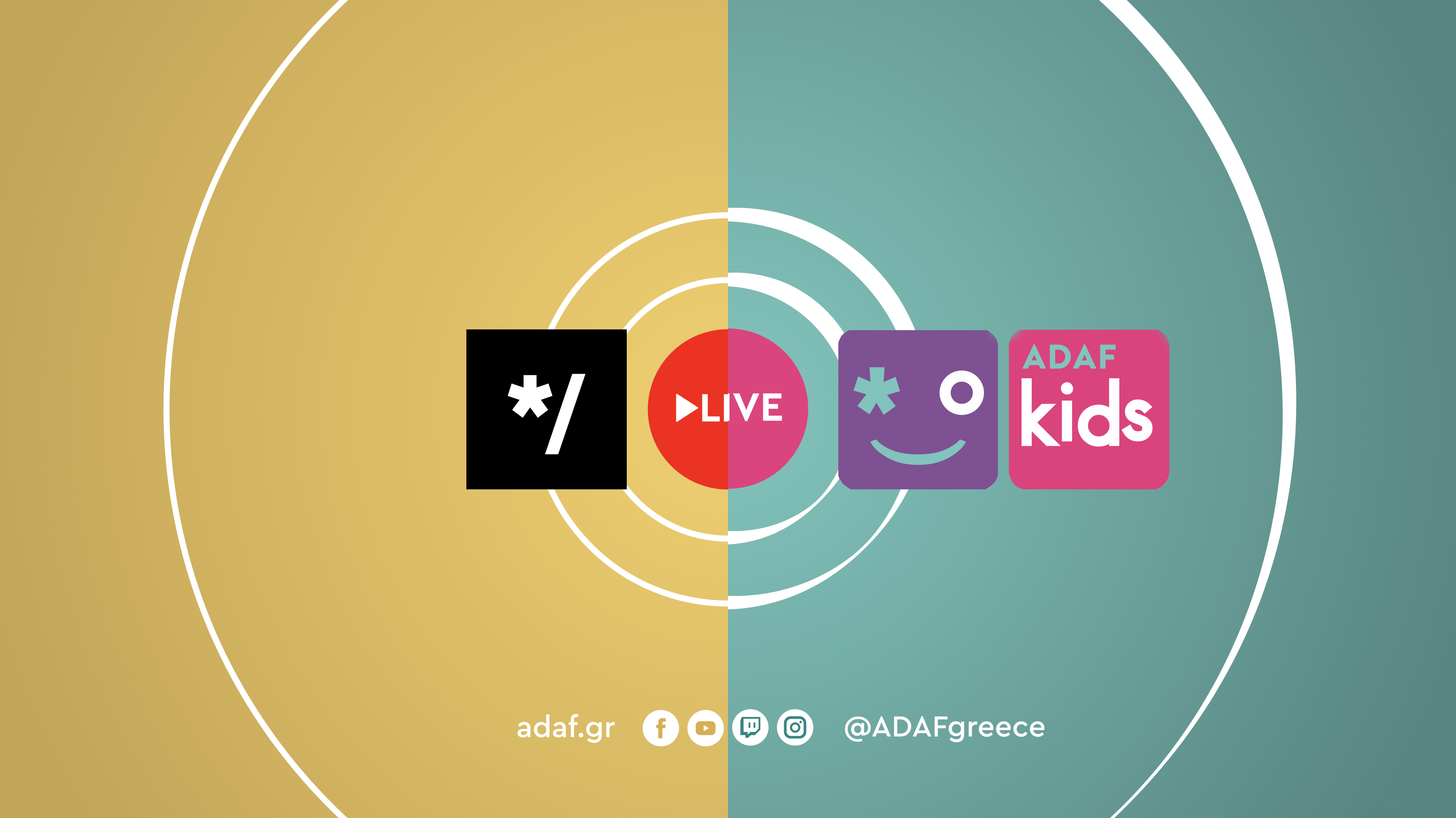 The International Festival for Digital Arts in Greece, Athens Digital Arts Festival, acting according to the circumstances and in full convergence with #DigitalSolidarityGR, is offering, from this Saturday 11th of April and during the Greek quarantine, a series of live digital art broadcasts for adults and kids.
International audience can enjoy live video art and animations of exceptional aesthetics dedicated to adults and kids, as well as video documentations of performances and installations, tributes to artists and art currents. Moreover, in its 16yeas of presence, ADAF has hosted a variety of international artists who will be talking about contemporary art, their experience in ADAF and in Greece  and whom are hoping to soon relive this experience.The program will be aired every Tuesday, Thursday, Saturday and Sunday at 19:00 approx one hour duration (GMT/UTC +03:00), while on the weekends we will air "ADAF Kids Live" program, with animations at 11:00 approx one hour duration (GMT/UTC +03:00). Special tributes will be announced separately on social media and will be aired on the afternoon zone. Our live broadcast will be available on social media such as Facebook and Twitch and of course our Youtube channel. You can find the links below.
Facebook facebook.com/ADAFgreece
Twitch twitch.tv/ADAFgreece
Youtube bit.ly/ADAFgreeceYoutube
Website adaf.gr 
Content specially chosen by our curatorial team, on total confidence that art and creation can contribute to the human soul on such difficult times, is aiming towards creative amusement for all of us, filling our houses with beautiful and interesting input which will help us mentally to break free from the quarantine. Unfolding our fantasy wings, we can accomplish another kind of freedom that will actively help us cope with the difficult requirements of our time. Review first the video teasers for ADAF Live and ADAF Kids Live at the following links. 
ADAF Live https://youtu.be/NgNza1326v8
ADAF Kids Live https://youtu.be/Jngk66F9bxU
Αthens Digital Arts Festival, has chosen for 2020 the thematic Technotribalism, stating that we are the first generation of people, in a world that is headed towards the over crediting data. More current than ever on the Coronavirus circumstance, where every biometric and every scientific data is of vital importance, and every digital imprint feeds the entertainment hunger of the quarantine, we are promoting under the framework of our digital activities collectivity and openness towards the treasure of knowledge, art and science, proposing this ideals as the foundation for this new world. With our so far digital ventures, ADAF Live and #AthinaioiMesa in collaboration with Project210, we are expressing our solidarity towards all of you, responding to the call of the Ministry of Culture in Greece, for support towards cultural creativity. We promise we will not stand still, and we will not stop here, rather we will bring more digital interesting content to your screens, for as long as we cannot have your physical presence. After all, who is more appropriate to deliver a digital program to you, if not the International Festival for Digital Arts in Greece?
#ADAFgreece #ADAFLive #ADAFKidsLive #ADAF2020 #AthinaioiMesa #DigitalSolidarityGR #Greecefromhome #StayHome #StayCreative 
Stay tuned for more updates soon…