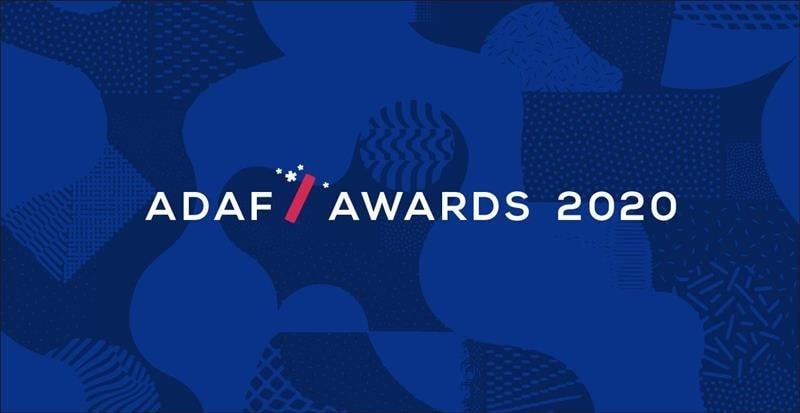 A magical night under the imposing lights of the Acropolis, marked the ceremony of ADAF AWARDS 2020
ADAF AWARDS 2020 were successfully completed in the urban space outside of the Danish Institute at Athens, an unforgettable event under the imposing lights of Acropolis. We would like to thank all of you who supported the event with your presence. Especially nowadays, such events are an injection of optimism and, above all, of strength for us as well as for the artists and the public.
We would like to offer our special thanks to the Director of the Danish Institute in Athens, Dr Bodil Due, Management Consultant, and the Director of the Cultural Department of OPANDA, Lola Velona, who honored us with their presence.
Also, with us were – with a physical presence or not – the winners of the night. 
ADAF AWARDS is a celebration of digital art dedicated to artists who, especially now, need our support. Due to the fact that the public voted for their favorite artworks, the awards were a special form of communication between the artists and the audience.
The following artists were awarded in these categories: 
Performances :
1st Place Tide | SLOW DOWN | Volker Bertelmann aka Hauschka | DE
1st Place Tide | Centaur | The Danish Dance Theater, Pontus Lindberg, Cecilie Waagber Falkenstrom, Ryoji Ikeda | DK
2nd Place | 10 studies for an interactive screendance | teia | BR
3rd Place | Tiresias | Eleni Xynogala | GR
WEB ART :
1st Place  | Journey to the Planet of nuclear Chewing Gum | Vera Sebert | DE
2nd Place | Spam | Georgios Cherouvim | GR
3rd Place | New Haven | Vera Kavaleuskaya, , Eugene Markin, , Sasha Smirnova | RU
WORKSHOPS :
1st Place | Art in Blockchain: Cryptocurrencies and Cryptocollectibles workshop | Martin Nadal | ES/AT
2nd Place | Getting Started in Virtual Reality with Godot Open Source Game Engine | Jeffrey L. Gangwisch | US
3rd Place | Virtual Scenography | Abel Enklaar | NL
DIGITAL IMAGE :
1st Place | Modular Bones™: Living Strategies | Maria Paneta | GR
2nd Place | GAN animations | Myrto Amorgianou | GR
3rd Place | Cells | Marianna Lourba | GR
TALKS :
1st Place | MEAT, METAL AND CODE: HYBRID HUMAN-MACHINE SYSTEMS | Stelarc | AU/CY
2nd Place | Hide (Nearly) Everything: Understanding Social Media Through Net Art Strategies of Resistance | Ben Grosser | US
3rd Place | From how many pixels can we tell a story? | Collectif Coin, Maxime Houot | FR
ADAF KIDS :
1st Place | Ludotecnia | J. Crowe | AR
2nd Place | Across the Bridge | Alisha Steinberger, Chao Wu | CA
3rd Place | Panda for the Prosecution | Christina Chrysanthopoulou, Georgia Skartadou, Vasileios Karavasilis | GR
GAMES :
1st Place | Technotribal | Orama Interactive | GR
2nd Place | Panda Simulator | Kostas Cheliotis | GR
3rd Place | Choose Your Own Quarantine | Dasha Ilina | FR
360 VIDEOS / VR :
1st Place | Isolation | Christopher Wooten | US
2nd Place | Fractals, Unvisible Landscapes | Adreas Guskos | PL
3rd Place | Hyper D | Malitzin Cortes | MX
VIDEO ART :
1st Place | Shedding | Alessandro Amaducci | IT
2nd Place | Casablanca run the covid | Kamel Ghabte | FR
3rd Place | Glitching Queerness/Queering Glitch | Eremus | GR
ANIMATION :
1st Place | Dr. Yen Lo | John Katehis, Gregory Milovi | US/AL
2nd Place | Artifice | Judicaël Ceva, Adrien Douay, Coline Della Siega, Coraline Hun, Diana Lao | FR
3rd Place | Desire Line | Ruini Shi | UK
ADAF AWARD by ADAF TEAM :
Plastic Sea | Yannis Kranidiotis | GR
We would like to thank all those who managed to be with us in this special event, but also those who could not attend due to the circumstances but watched the ceremony through live streaming in the platform ADAF ONLINE (online.adaf.gr). We wish you all to continue being creative and we're looking forward to the ADAF AWARDS 2021.
Photos from the event HERE
Watch the Trailer HERE
Watch the entire ceremony HERE
*The event will take place, taking into account all safety measures in accordance with the applicable instructions of the proper authorities for the security of public health by COVID-19, keeping the necessary distances and providing the public with masks.
At the same time, in the next period, ADAF, always seeking physical contact with the public, will safely connect the digital with the physical space, with contactless interactive projects and special events, through which we will experience our beloved Athens.
Stay tuned to learn how to be part of the most phygital ADAF experience in Athens.
Co – organisation: Organization of Culture, Sports & Youth of the City of Athens (OPANDA)
Under the Auspices: Hellenic Republic Region of Attica, Municipality of Athens
The 16th Athens Digital Arts Festival is co-financed by the Hellenic Republic and the European Union through the Regional Operational Programme of "Attica" in the framework of NSRF 2014-2020.