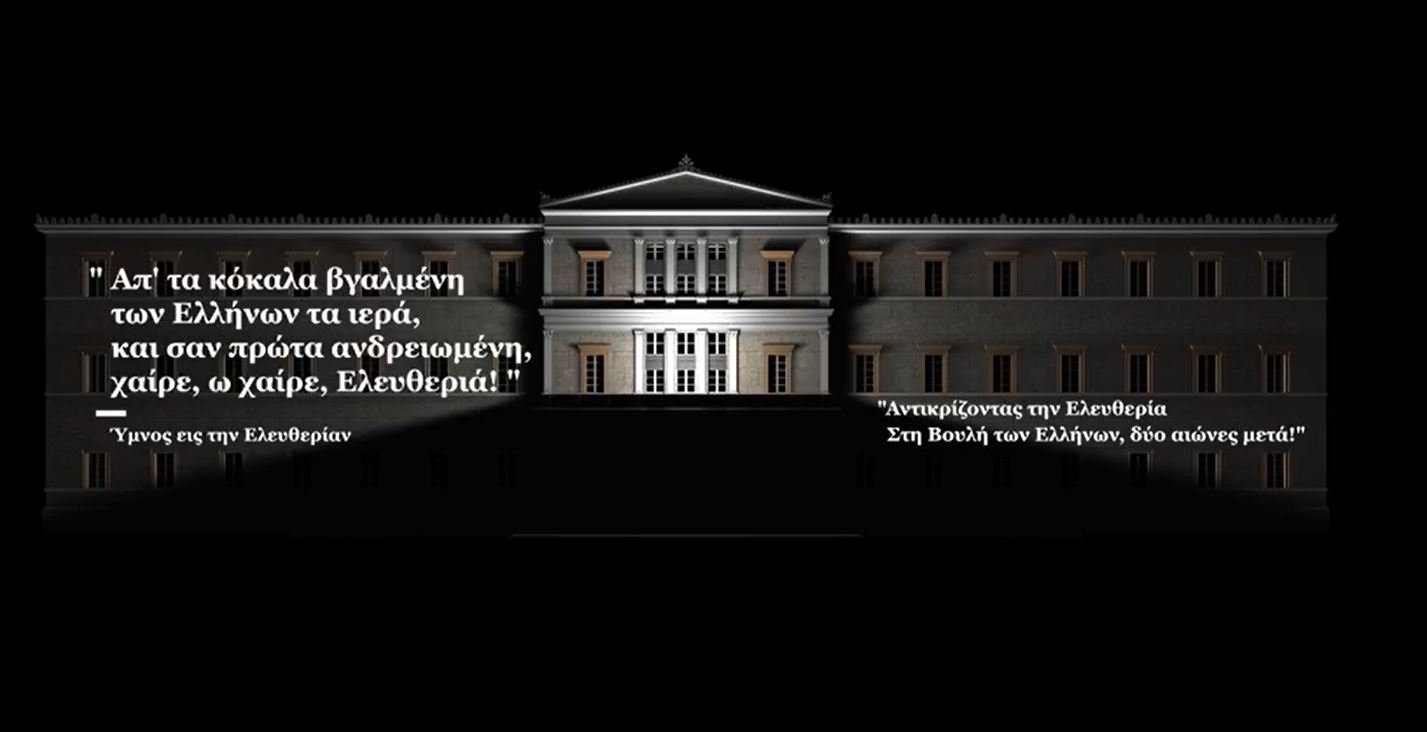 On the occasion of the celebrations of the 200 years since the Greek Revolution and in the framework of the exhibition "Beholding Liberty! At the Hellenic Parliament, two centuries later", an implementation of a special projection made by 3D mapping technique on the western façade of the Hellenic Parliament Building, is being made, aiming on promoting the historic fringe, adornment  of the gallery room "Eleftherios Venizelos" on which one can see scenes and figures of the National Liberation Struggle in 1821.
This 3D mapping projection is produced by the International Festival for Digital Arts in Greece, Athens Digital Arts Festival (ADAF) in collaboration with the curatorial team of the exhibition, the head of the Parliamentary Library Maria Kamilaki and the manager of the art collection in the Greek Parliament, Thodoris Koytsogiannis
Utilizing cutting edge technology, such as 3D virtual tours and projection mapping, and combining them with contemporary tools for digitalization we created a monumental spectacle which describes the historic fringe and its position in the building of the Greek Parliament. This 10 min audiovisual projection, accompanied by unique sound, complements the spatial elements of the building, facilitated by special lightning which for the first time exploits the insides of the building in 360 perception.
This exhibition focusing on the notion of Liberty, focuses on the "Fringe" as its main element, which is the first institutional depiction of the National Liberation Struggle. The artpiece is 59 meters long and depicts 20 historic representations of the greek revolution. It was created between the years 1842-43, commissioned by the Bavarian king Ludwig 1st, and created by the also Bavarian artist Ludwig Michael von Schwanthaler.
The narration of the projection begins with the Greek Flag, the virtual entrance to the gallery room "Eleftherios Venizelos" and follows the whole history as narrated on the fringe, while showing additionally the 14 portraits of heroes, politicians and military men that adorn the Room of Adjutants, bringing them to life as a commentary,  and concluding with the "Hymn to Liberty"
ADAF was awarded last year with the Gold and Platinum Awards in Lighting AWARDS 2020 and for its 3D mapping projections with title "organiser of the year"in Event Awars 2020. This year, with honor, has taken upon itself to present the historic fringe of  El.Venizelos room of the Greek Parliament through a projection of monumental size.
Ilias Chatzichristodoulou – Founder and Director Athens Digital Arts Festival
Lydia Lampropoulou – Art Director
Konstantinos Garinis aka VJ CODEC – 3D Animation & Mapping Projection
Dimitrios Schinarakis – Image Processing & Illustration
Konstantina Tsiga– 2D Animation
Anastasia Manou – Montage
Fanis Sakellariou– Sound Design
Iannis Pantazidis – Project Management
Aris Galinos – Video Documentation
Stergios Papaevangelou – Video Documentation
Chris Douris– Live Streaming
Konstantinos Samaras– Photography
Manolis Karamanolis – Photography
Projection installation & Mapping: Videotooth
Management – A/V Equipment: OVAL Advertising
#ADAFGreece #ADAF2021 | www.adaf.gr