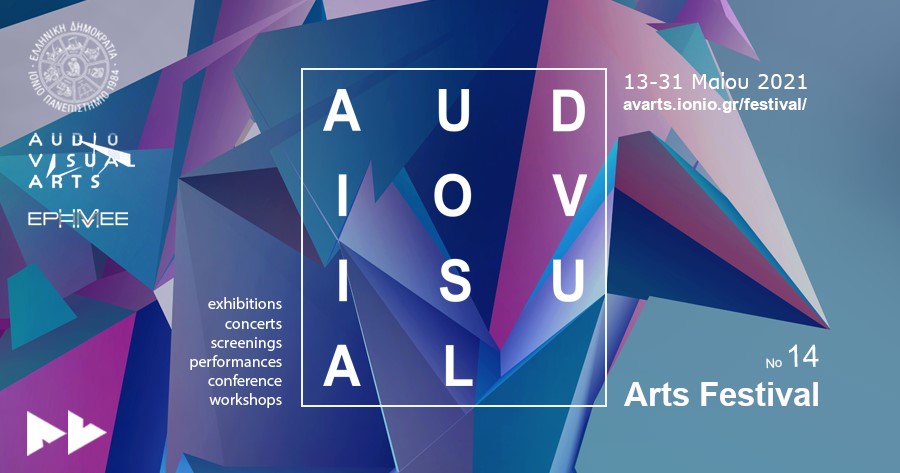 ADAF is a proud collaborator of the 14 th Audiovisual Arts Festival by Ionion University and we are  inviting you at its opening that will take place this Thursday 13th May via internet at 20:00
Link to the opening and activities: https://avarts.ionio.gr/stream
Festival Link:  https://avarts.ionio.gr/festival/
Festival activities will take place over the world wide web from the 13th to the 31st of May 2021
18 DAYS
Artist activities
Music Events
Educational Workshops 
Scientific announcements
345 PARTICIPANTS
220 undergraduates
50 Post Graduates
20 PhD and alumni
40 participants from the Center of Continuous learning | OPERN ART
15 Professors
16 ART ACTIONS
8 CONCERTS
5 WORKSHOPS
50 SCIENTIFIC ANNOUNCEMENTS
6 COLLABORATIONS WITH NATIONAL AND INTERNATIONAL INSTITUTIONS
European Art-Science-Technology Network (EASTN-DC)
Institute for Digital Arts, University of Western Macedonia
Helmca (Hellenic Electroacoustic Music Composers Association) Continuous Learning| OPEN ART
Corfu Photography Association 
Athens Digital Arts Festival (ADAF)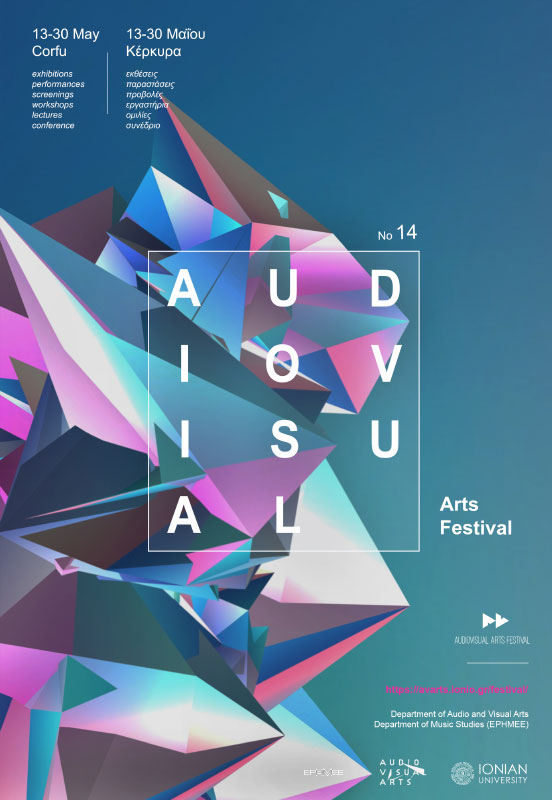 OPENING PROGRAMME
Salutations
Andreas Floros Reactor Ionian University
Rodi Kartsa Regional Governor of Ionian Islands
Meropi Idraiou  Mayor of Corfu
Dimos Dimitriadis Dean of Faculty of Music & Audio Visual Arts Ionian University
Andreas Giannakoulopoulos President of Faculty of Audio and Visual Arts Ionian University
Andreas Mniestris principal of ERIMEE ( Lab for Electroacoustic Music Research and Applications )
Nikolaos Kannelopoulos  Dean of Faculty of Audio and Visual Arts Ionian University
Marianna Strapatsaki Dean of Faculty of Audio and Visual Arts Ionian University
SHORT PRESENTATIONS
Konstantinos Tiligadis – assoc. Dean Faculty of Audio and Visual Arts Ionian University
Angelos Floros- Festival Art Director
Apostolos Loufopoulos- Head of Festival Musical Activities committee
Natalila Onorato head of Educational Activities AV school
Michalis Panagopoulos – Head of Convention Steering Commitee DCAC 
Giannis Zannos Scientific Directors EASTN-DC
Alexandra Kalaitzoglou  FOTO LE.KE ( Corfu Photography Association)
Vasilis Mpoyzas – Director URC TIMENOS University of Western Macedonia
Ilias Chatzichristodoulou – founder and director of Athens Digital Arts Festival
Mary Zigoyri – Artist
A few words
The 14th Audiovisual Arts Festival of the Ionian University is organised by the dep. Audio and Visual Arts (ΤΤΗΕ)  and the Lab for Electroacoustic Music Research and Applications (ΕΡΗΜΕΕ)  part of  the faculty for Music Studies of the Ionian University.
The festival Program will unravel between the 13th and the 31st of May and is covering a broad spectrum of artistic educational and scientific activities.
Looking toward openness the 14th festival of audiovisual arts has collaborated with the Institute for audiovisual Arts from the Academic Educational Center  "TIMENOS" by the University of Western Macedonia , the educational center for continuous learning (KEDIVIM) by Ionian University, Athens Digital Arts Festival, the Hellenic Electroacoustic Music Composers Association (ESSIM) and local cultural institutions such as the Region of Ionian Islands, Corfu photography association ( PHOTO LE.KE) and the Committee for Social Compassion of the Regional Office of Scouts in Corfu,  as well as distinguished figures from the performance art world such as Mary Zigouri, Filippos Tsitsopoulos, and Michalis Mitrou
Targeting the artistic creation of the students, the audiovisual arts festival has organised online the 7th series of seminars and workshops Avschool( https://avarts.ionio.gr/school/ )  between the 24-27of May and the 3rd international symposium Digital Cultures and AudioVisual Challenges (DCAC) ( https://avarts.ionio.gr/dcac/ ) between the 28th and 29th of May 2021.
The long term activities of the festival are receiving international participations having this year  invited artist from the BioArt genre Adam Zaretsky  and Marta de Menezes collaborators of Drama Pitching Lab of Drama International short film festival  and Interactive arts lab  (InArts) from the Ionian University as well as  the Cultivamos Cultura Institute of Portugal
Notable collaboration is this with the European Art – Science Technology Network for Digital Creativity (EASTN-DC)  which is allowing artists and educational activities to be a part of the 14th festival, presenting a special circle of announcements in the conference Digital Cultures and AudioVisual Challenges.  Distinctive participants are Georgios N Yannakakis and Daniel Ballin
Festival site:  https://avarts.ionio.gr/festival/