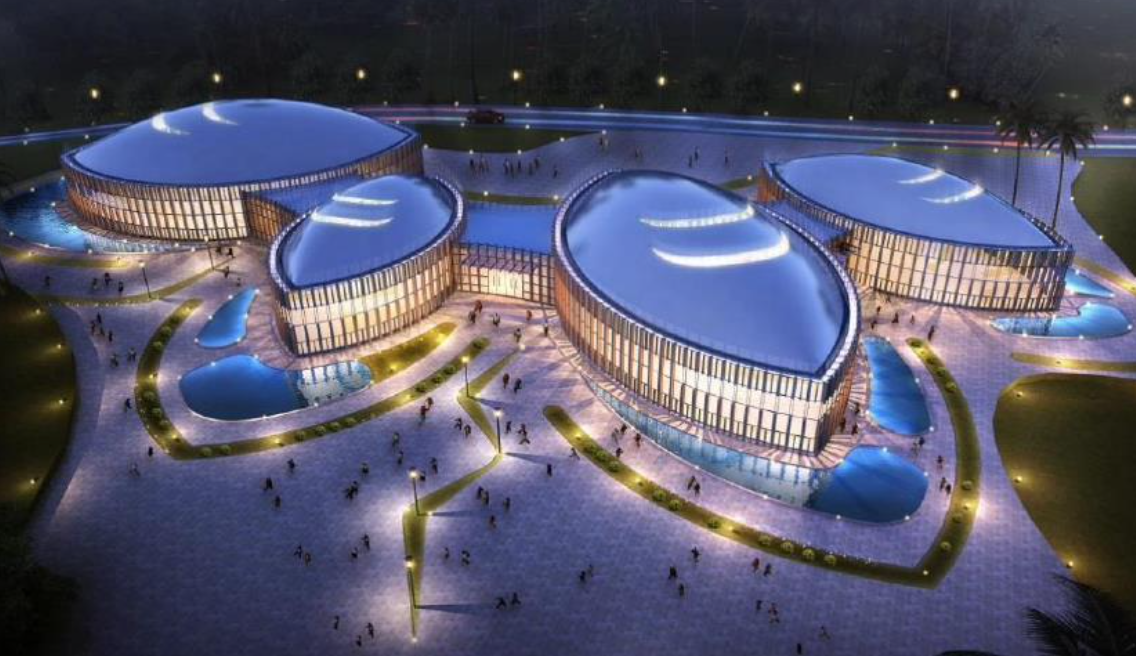 Greece is the Country of Honor at the International Art Exhibition in Hainan, China 2021. Its Exhibition "Thesis-Antithesis-Synthesis – in the Belt of Change" is designed as an immersive experience for the public to imagine histories and futures, as well as to highlight the concepts of interaction, dialogue and fluidity.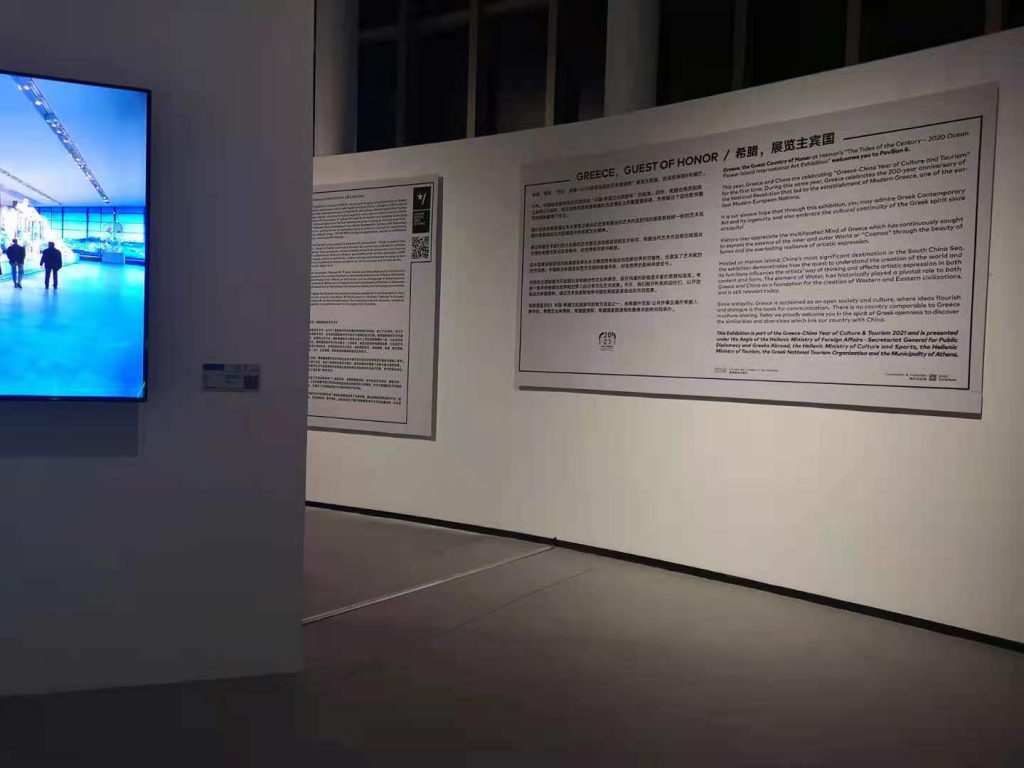 Hainan, literally means 'south of the sea' and is the largest Island of China. In June 2020, a large-scale plan was announced by the Chinese government to transform the entire province with the aim of turning it into the largest special economic zone in China. Ocean Flower Island, built on Hainan, is the world's largest flower-shaped man-made cultural tourism island, 1.5 times bigger than Palm Island in Dubai. An ingenious architectural complex of 8 grandiose museum buildings adorns the New Landmark for World Cultural Tourism. The International Art Exhibition "Tides of the Century" that inaugurates the museum complex on the island aspires to see that art as a common language of humanity to respond to the issues and challenges of this century. Chinese and International Artists from 24 Countries are participating in this great event.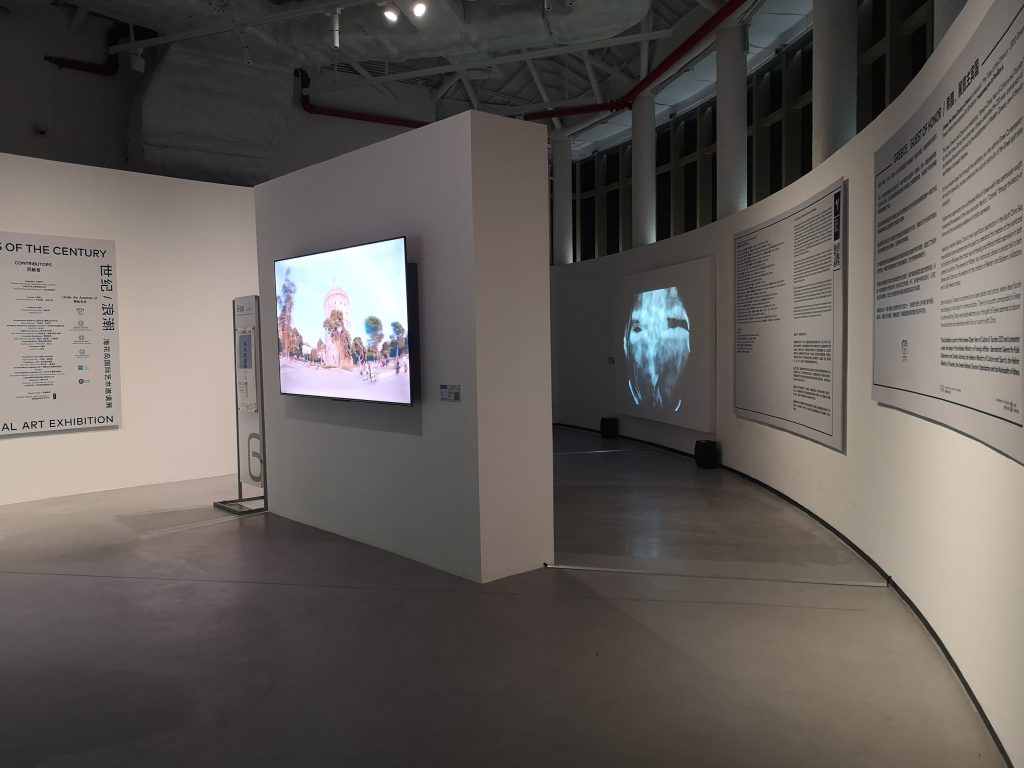 This year Greece and China are celebrating "Greece-China Year for Culture and Tourism "for the first time, During this same year Greece Celebrates the 200 year anniversary of the National Revolution that led to the establishment of Modern Greece one of the earliest Modern European Nations. 
The Exhibition "Thesis-Antithesis-Synthesis – in the Belt of Change" is part of the Greece-China Year of Culture and Tourist 2021 and is presented under the auspices of the Hellenic Ministry of Foreign affairs – Secretariat General for Public Diplomacy and Greeks Abroad, The Hellenic Ministry of Culture and Sports, The Hellenic Ministry of Tourism, the Greek National Tourism Organization and the Municipality of Athens.
The Exhibition brings together an eclectic selection of works (sculptures, installations, videos, multimedia works, and digital art) by pioneer Greek artists or artists of Greek origin.
At the Entrance Hall of the exhibition, leading to the three main areas, visitors can get a taste of Greek culture and touristic development, as well as showcasing the International Festival of Digital Arts in Greece, ATHENS DIGITAL ARTS FESTIVAL represented by the work of 21 Greek artists exploring the digital world and its extensions.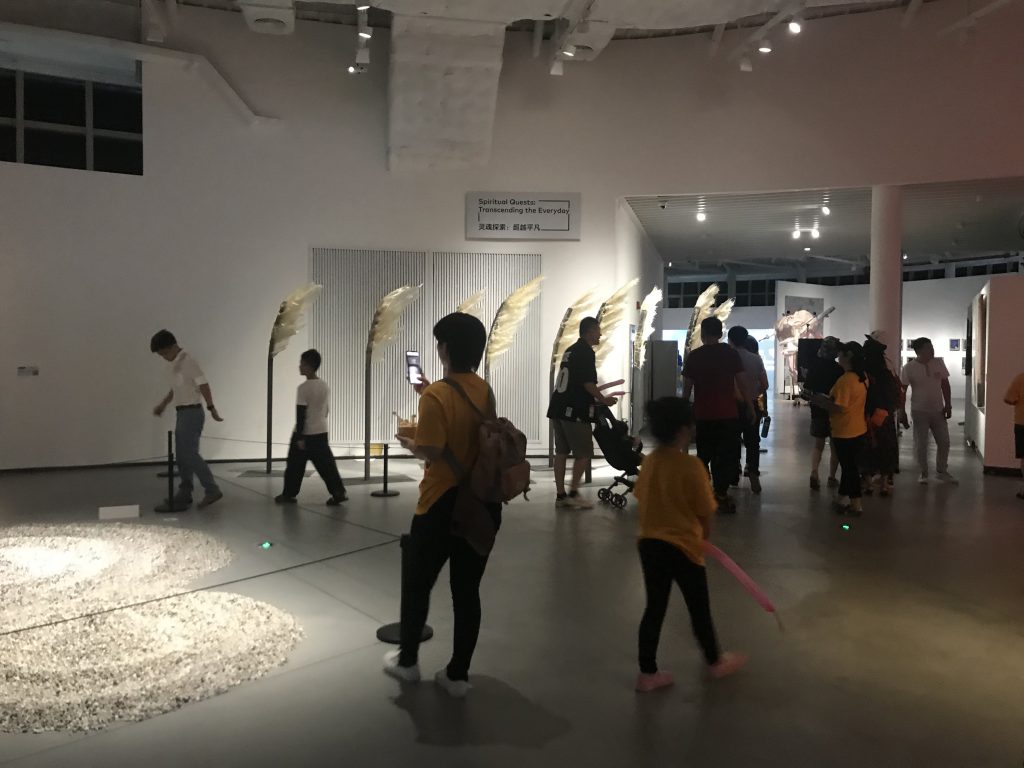 Artists representing ATHENS DIGITAL ARTS FESTIVAL
Alex Karantanas | Singularity (2016/17) | 07:13 min
Alexandra Mavrofridi | LETHAL HAND (2019) | 02:41 min
Anestis Anestis | A Natural History of Exotic Extinctions (2018) | 07:26 min
Antonis Rozakis | Escape shadows (from Athens) (2015) | 02:43 min
ARos & Christina |Interference | 0.7 (2016) | 04:11 min
Eleana Dimopoulou | SISYPHUS (2016) | 01:20 min
Eleni Chamou | Filter bubble (2016) | 02:10 min
Eremus | Glitching Queerness/Queering Glitch (2018) | 09:24 min
Evi Stamou | Memory Lane (2016) | 03:20 min
Gelly Pentefounti | Much Ado About Nothing (2016) | 03:30 min
Iris Bournazou | Ichnos (2019) | 00:10 min
Kakia Konstantinaki | Us (2017) | 04:37 min
Makis Kyriakopoulos | What is a Man Without a Shadow (2020) | 03:20 min
Manolis Anastasakos | BIOMIMICRY "Into The Light"-Bioluminescence -green (532 & 520 nm) (2017) | 05:00 min
Maria Papapostolou | ECTASIS-ECTOPLASIS II (2016) | 03:21 min
Myrto Amorgianou | Datamoshed Elevator (2018) | 01:37 min
Orestis Charos | The wave behind us (2017) | 03:05 min
Pamela Stefanopoulou | The Voices of Silence (2015) | 01:52 min
Yannis Kranidiotis & Situ Xiaochun | "inout" (2021) | 03:24 min
Theodora Prassa | Lavyrinthos (2017) | 02:45 min
Thomas Valianatos | Fractus machine_Cosmos (2016) | 03:34 min
Video program duration: 76 min 43 sec | 1 hour 16 mins 43 sec
Curated by:
Ilias Chatzichristodoulou (ADAF Founder and Director)
Katerina Koskina (supported by POLITES non-profit civil law corporation)
Eirini Olympiou (ADAF Video Art Curator)
About ADAF:
Athens Digital Arts Festival (ADAF), the pioneer longest living institution in Greece dedicated to audiovisual culture and digital arts (est.2005), is Greece's official representative in the international scene of digital arts and culture. Athens Digital Arts Festival celebrates digital culture by bringing together every year a n international artistic community with thousands of visitors through an innovative and versatile public programme. Athens Digital Arts Festival takes great pride in being an inclusive and multi-layered institution that emphasizes the relation between Art, Science, and Technology and features artistic forms of expression such as web art, interactive installations, animation, digital image, VR/AR/MR, and digital applications as well as exhibitions, screenings, and live performances. ADAF from its early years aimed to embrace all communities –Greek as well as international –linked to digital culture and through its course has succeeded to maintain and empower this connection mainly by being rooted in its community and fostering network collaboration while providing an open platform for artistic expression. ADAF aims to inspire artists to experiment, create and express themselves by using all technological and audiovisual means, as well as to inform, educate and familiarize the audience with digital arts. ADAF has developed, through its 17 years course, a leading-edge and prominent educational program that includes Academic presentations, International Tributes, Workshops and Masterclasses that reflect on the artistic and visual language of digital mediums and its aesthetics. Being part of a large international network of festivals, it's how cases work representing the international contemporary artistic and technological production. Athens Digital Arts Festival has received numerous awards for its achievements in many fields and was recently awarded by EFEE (Europe for Festivals, Festivals for Europe), an internationally acclaimed organization that measures and sets the quality standards for recognition and establishment for European Arts Festivals.
Hainan Ocean Flower Island
Guest Country Greece
Pavilion 6
End of the exhibition: 8.12.2021

Organizers
Chinese International Exhibition Agency (CIEA)
Ocean Flower Island Museum
Curator
Katerina Koskina
Producer
Kostas Konstantinidis
PostScriptum
Architectural Design & Lighting
Maria Maneta
Academic Research & Exhibition Content
POLITES
Digital Arts Expert
Ilias Chatzichristodoulou
Curatorial Assistance
Seta Astreou Karides
Communication
PostScriptum / POLITES
Translation
Lydia Xu
Coordinator .GR
Katia Demertzi
Coordinator .CN
Eric Cai – Alicia Cai
Art Handling & Logistics .GR
MoveArt
Art Handling & Logistics .CN
Shanghai Heighten International Transportation Co. Ltd 
Insurance
Karavias, Coverholder at Lloyds
Special Guest
ATHENS DIGITAL ARTS FESTIVAL